WELCOME TO FLORIDABIRDS-L !
INCLUDING
FLORIDABIRDS-L POLICY STATEMENT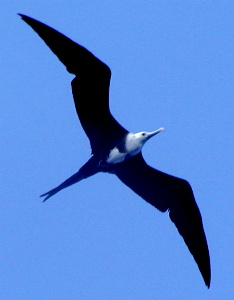 Magnificent Frigatebird
Islamorada FOS field trip
Doug Wassmer
October 5, 2002
---
5. Off-topic subjects are unacceptable and should be avoided. Florida is a big state with lots of wonderful birds and this list is limited to them. Notices pertaining to educational bird quizzes are allowed.
6. Off-topic items include domesticated and pet birds, cats, both feral and domesticated, bird feeding, hunting and hunters, notices of employment, and solicitations of any kind other than requests for information (RFI's) about Florida birds unless cleared first with the listowner. An exception is that Florida Ornithological Society, and its officers, who may post such notices and information as it officially deems necessary, and requests for such information as it may need. Trip reports from whatever source are welcomed but should be posted by the person who has made the trip. On request, I can add anyone to our subscription list one who wishes to send a Florida trip report. Sometimes a forwarder, rather than the original trip reporter, incorrectly edits the message, thereby distorting the report. For the same reason, I do not forward trip reports or other messages for nonsubscribers.
7. You may post to both this list and to *your* area list, if any. Further crossposting is discouraged. If you think the record of the bird(s) you are reporting should be preserved historically, be sure to report it (them) to FLORIDABIRDS-L so that the records may be found, if needed, in the archives in the future. FLORIDABIRDS-L is the only bird mailing list available in Florida that has searchable archives and keeps records for a long period of time. In contrast, the messages on listbot lists, which comprise all of the other lists in Florida to my knowledge, are kept only one year unless the traffic is very low.
8. Reports of *rare* birds are encouraged to be reported on this list and any other Florida local mailing list or lists as you may wish.
9. When you post, please give the proper names of birds (in at least the first reference in your posts) for ease of finding your information in the archives of FLORIDABIRDS-L. The same is true of locations, i.e., please refer to St.Marks NWR in your first reference and afterwards as SMNWR if you wish. The archives need a consistent pattern of names, such a
10. Use "plain text" only, no HTML.
11. Posts are limited to 200 lines each to help prevent viruses. If your post is longer than that, divide it into segments of not more than 200 lines and indicate the Part number and the subject on the subject line.
12. Local birding club postings should be limited to one festival announcement which is of statewide interest. In this connection, it is suggested that clubs set up a private local list for their transmission of club business.
13. Please use savings practices in the use of bandwidth and archive space by including only as much of any post you may be answering as may be needed to identify the post. The original post will be available in the archives and need not be repeated over and over. "Me, too" posts are not necessary and definitely should not be used. Other such expressions, i.e., '"Attaboy," merely serve to waste time even for those who would delete them only.
14. If you have any questions about interpretation of this message, write me at one of the addresses below, bearing in mind that, although I have two commercial ISP's, either or both of them may be unavailable for a reasonable time. I try to respond quickly but it is not always possible since you all know that an internet connection must be made to receive any email, even from you. In an urgent situation, messages should be sent simultaneously to both email addresses.
15. All problems regarding the list and this document, including comments and suggestions, should be sent to the listowner, and not to the list.
16. Subscribers who do not adhere to the policies above are subject to having their accounts changed to the REVIEW or NOPOST mode. No notification of this change is made. In REVIEW mode, posts are sent directly to the listowner who may then approve them for distribution to the list or not approve them. If the submitted post is not within the policies as set above, and if I have time, I will return the post with a rejection notice. NOPOST means that the subscriber does not have posting privileges but in both cases will continue to receive mail from FLORIDABIRDS-L.
17. The policies set out herein are subject to change as the need arises. Date of last amendment: 01.09.03
Let me know at once if you have any problems I can help you with. It is better to solve them quickly if possible.
I realize this list is long, but all items have been found to be needed in the day to day business (messages) of the list. FloridaBirders are very polite, and we all appreciate each other in that respect, I hope, regardless of whether we agree or disagree.
[substitution] This statement of policy for this list is posted on webpage:
FLORIDABIRDS-L. (Barbara Passmore, webmaster)
Although this is a long message, it is necessary so that new subscribers can understand the posting protocols of FLORIDABIRDS-L. It is meant only to make it easier for both you and the more than 700 other subscribers.
I am sure you will remember these three simple words: BIRDS, BIRDS, BIRDS!
ENJOY THE BEAUTIFUL FLORIDA BIRDS, FINDING THEM, HEARING THEM AND LEARNING ABOUT THEM. And...
Enjoy Floridabirds-L ! You are very welcome on this list.
Barbara Passmore, Listowner, FLORIDABIRDS-L, bkpass@bellsouth.net
Keith MacVicar, Co-listowner, FLORIDABIRDS-L, km1dot2@aol.com
List Address: Floridabirds-L-request@lists.ufl.edu

| Subscription | Member Photos